Front Load Kiln & Package Load Kiln – Hardwood Lumber Kilns
Bol Design Inc Package Load Kilns and Front Loading Kilns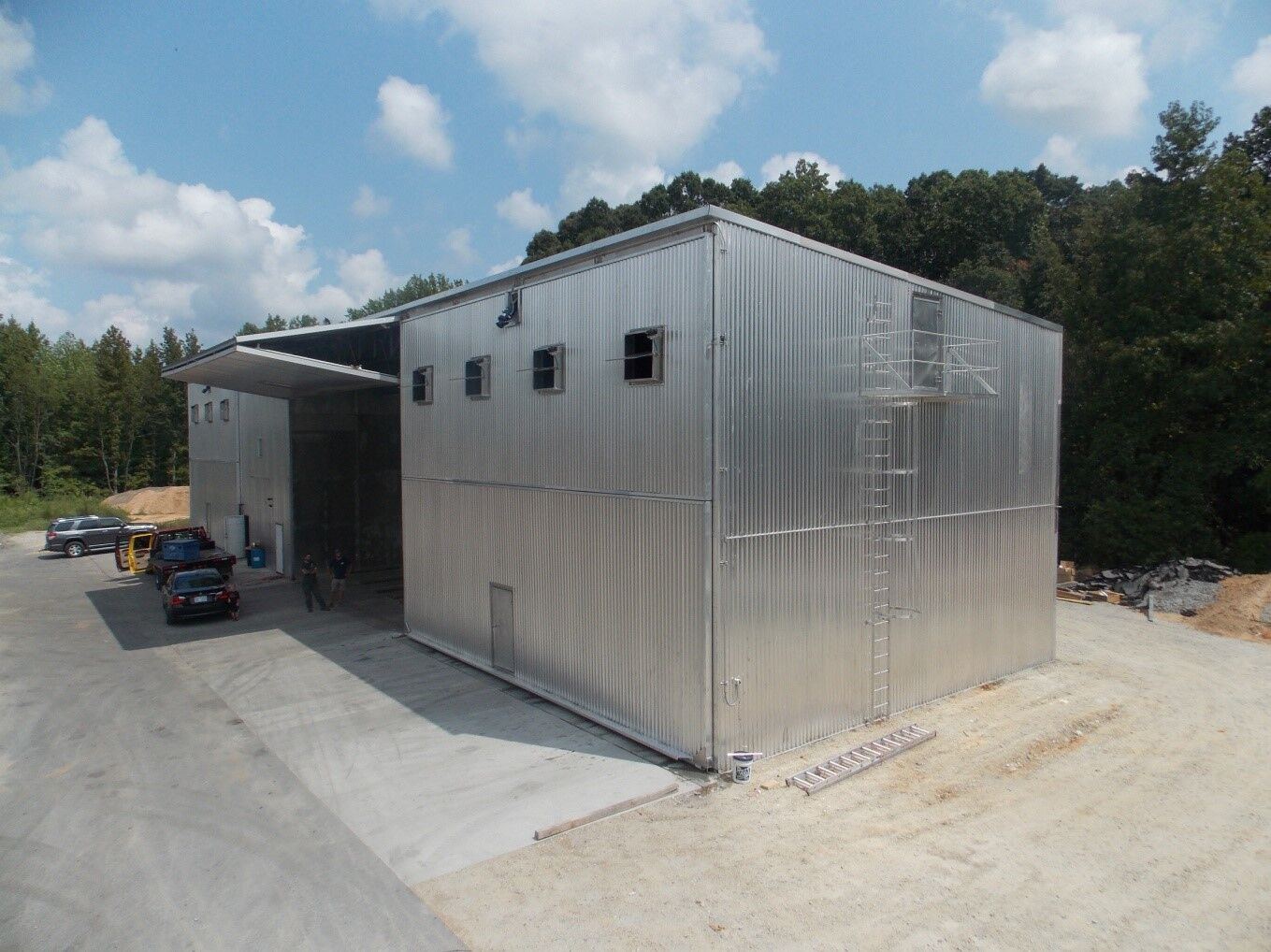 Bol Design Inc. has the leading package load kilns and front load kilns for drying lumber in the entire industry. Our lumber kilns are designed with corrosion-resistant aluminum and highly-durable materials, these wood kilns are built to last for extended periods of time even during frequent use. With a front-load design, it's easy to load and unload lumber, decreasing operational time and costs. You can seamlessly control every aspect of the process with a convenient and easy-to-use Windows-based programming system. If you're looking to increase the output and speed of your hardwood drying services while cutting back on operational costs and inefficiencies, these quality wood kilns are the way to go.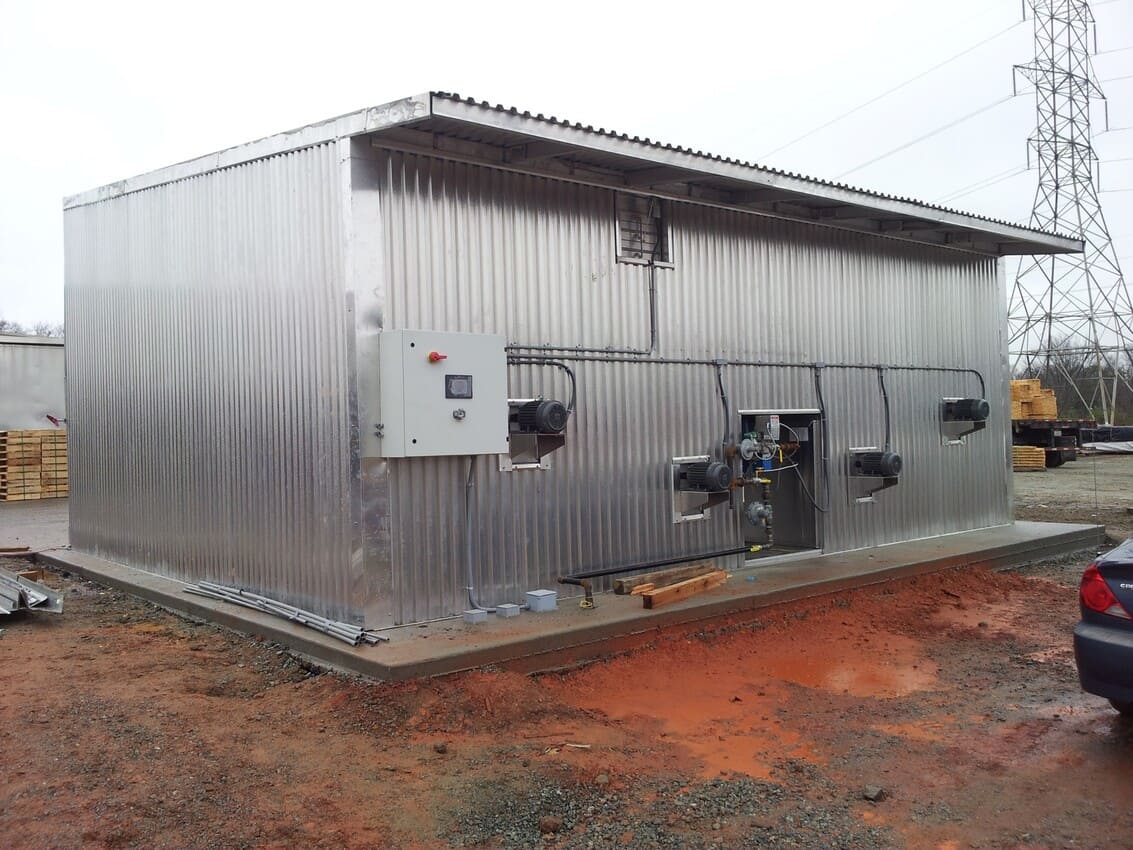 Wet Air Venting System – (1) 10,000cfm each gives positive exhausting of moisture laden air to control the wet bulb temperature. The aluminum fan, with aluminum frame, air operated truck brake actuator, 2hp motor for corrosive atmosphere, which reverses with the circulating air fans to always exhaust the wettest air. This is a patented front load kiln and package load kiln design by Boldesigns, inc.
DESIGN CONTROLLER – Fully automated built-in control package accessed by a true touch screen and using windows-based programming with help option for each screen. This unit will do everything your desk-top pc will do, including wireless networking, data download with an I-stick, and direct linking to your existing network. The unit has its own web address so that it can be direct accessed from anywhere and can be tech supported from anywhere.
Two (2) RTD sensors for dry bulb(s) to and measure control the heat set points in the Dry Kiln,
One (1) RTD sensor for wet bulb to measure control the relative humidity in the Dry Bulb.
One (1) wet bulb mounting bracket.
Walls – Our front load kilns and package load kilns wall frames are constructed of welded, 2" x 4" x 0.125" (wall thickness), Aluminum Rectangular Tubing (high corrosion resistance alloy) and include 4" x 4" supports for the fan deck. Wall Sections are welded into panels 8' wide and full height of kiln wall with full length vertical members spaced every 47" and a minimum of three (3) horizontal cross members, all solidly welded. Battens of mineral wool insulation, 4" thick, are fitted into the frame openings. An inner skin of 0.040" smooth aluminum sheeting is stretched and fitted to the inside of each panel, while 0.032 corrugated aluminum sheets are installed on the outside of the panels in the field with stainless steel screws on close centers. The aluminum inner skins are held in place by stainless fasteners. Corrugated sheets are made from aluminum.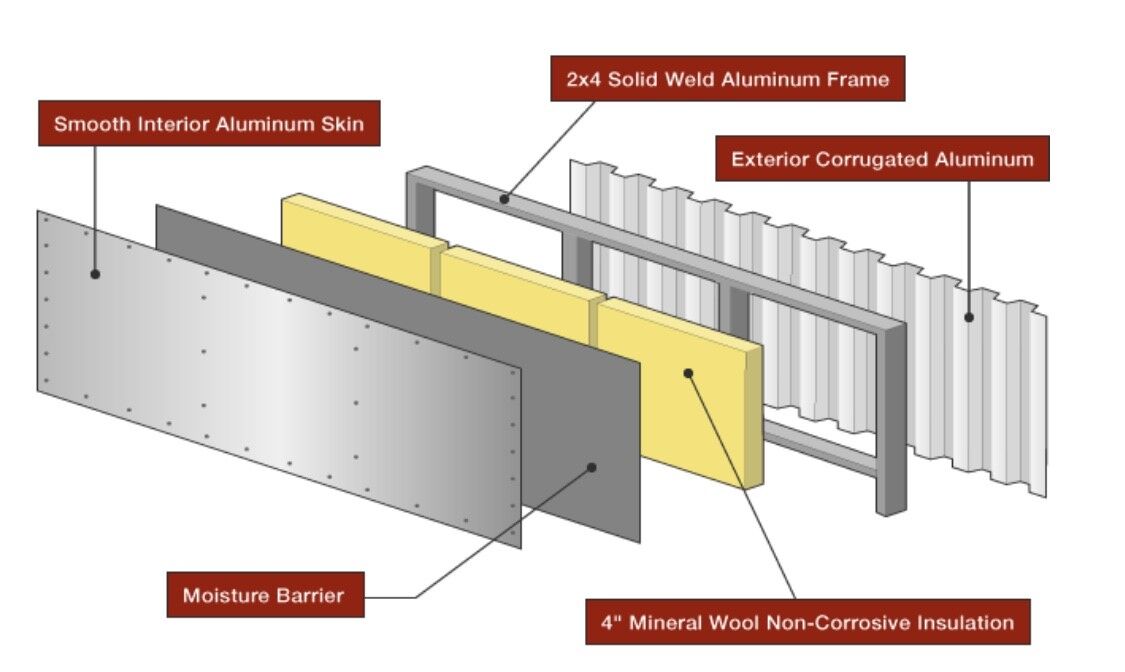 Mineral Wool Insulation – 4" thick wall/roof insulation has R = 20 (approximately, at 6 lb. density = 4.35R per inch). Mineral Wool insulation has been found in laboratory tests to resist the accumulation of moisture better than foam materials. The corrugated outer siding helps the panels to "breathe", eliminating condensation buildup that occurs inside the panels. Mineral Wool insulation does not break down or lose "insulation value" as solid-core insulation types do. Mineral Wool insulation is rated for use at higher temperatures than foam insulation types.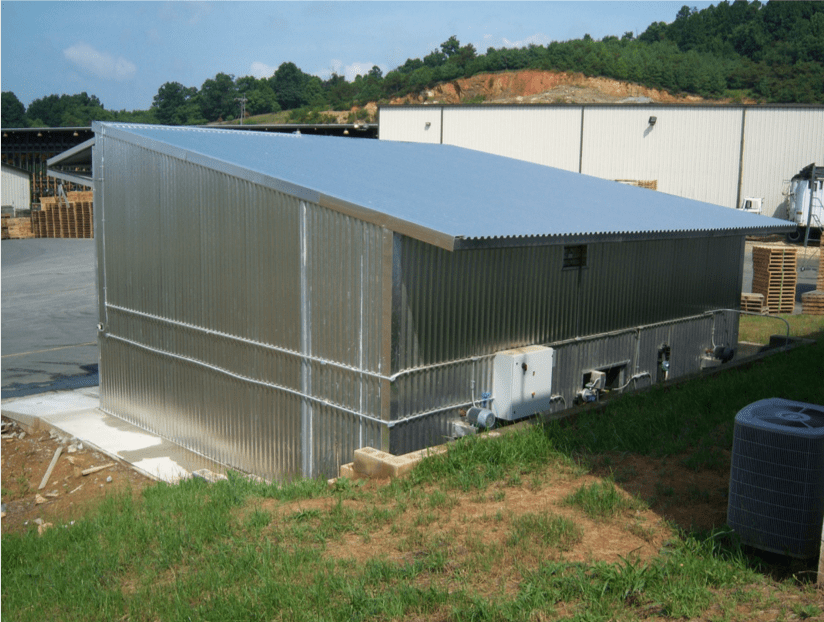 Roof – Roof panels are nominally 4½" thick and like the sidewall panel's 8' wide x the full depth of the kiln enclosure. These roof panels are fastened to the enclosure with ¼ x 1 ½ tek-screws on 36" centers at each truss and rear beam. The roof and side-wall panels are sealed together using 1/4" x 1-1/2" foam strips, then covered by a formed 0.060" aluminum sealing strip which is fastened to both side-wall and roof panels with stainless steel fasteners on close centers. The roof slope is 1" in 1'. Heavy gauge corrugated aluminum sheeting is installed over these roof panels in the field, same as with the sidewall panels.
Two (2) Powered venting shown above to facilitate lumber drying. The motors, control panel and all electrical are mounted outside the heated area of the treater to promote long motor life and easy access.
Roof Panel Construction – Roof panels, like the side-wall panels, consist of a heavy structural aluminum tube frame welded together and using mineral wool insulation, with a smooth 0.040" aluminum interior and a corrugated 0.032" aluminum exterior, providing the absolute strongest and best sealed front load kiln and package load kiln enclosure in the industry.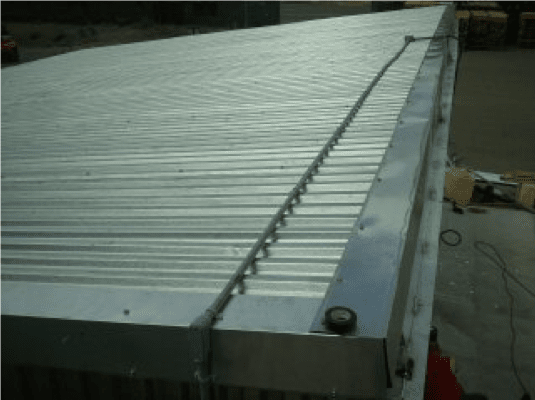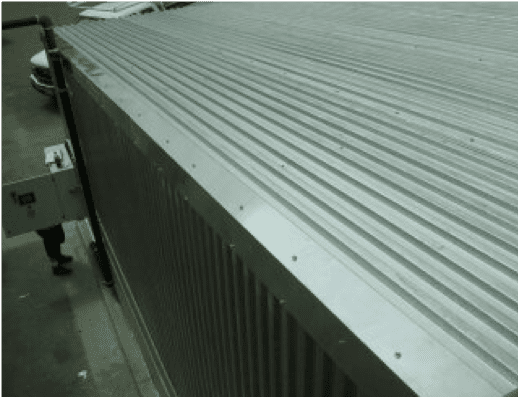 Standard Door – Standard lift and carry system to lift door and release onto hooks on each side securing and sealing the door. All aluminum tubing is welded together for stiffness. Insulated with mineral wool and covered in aluminum.
Optional Powered Bi-fold Door – This horizontal Bi-Fold design is constructed of heavy aluminum structural tubing, welded into a strong framework, and fitted with 2" thick, mineral wool insulation.. After being covered with 6 mil. Vinyl sheeting, the front loading kiln door panels are covered with the same 0.040" aluminum as with the side-wall and roof panels, smooth on the inside, corrugated on the outside. The main door hinges are constructed of 1/2" thick x 2" wide aluminum bars, welded to the doorframe and pinned through two other bars on the adjoining members with 3/4" diameter, stainless steel pins. The door utilizes a rubber, tadpole-type bulb gasket at the pinch points at the top and center hinge, with a soft, double bulb silicone rubber seal on each side. Once in place, the door is clamped shut by latches, providing the best door seal available. A 2 hp brake motor, directly connected to a 60:1 reducer drive, which in turn is directly connected to a winch, raises the door. For safety, the front loading kiln door is designed so that any of the cables can support the entire door.